Welcome to the One Tower Wiki
One Tower is a fast-paced battle arena game under development by SkyReacher. It was Kickstarter funded in April of 2016 and released in November 2016. This wikia is a collaborative resource for the game and is maintained by the contributions of the fans. Feel free to use our forums or chat room to discuss gameplay. All editors are welcome. Come join our community!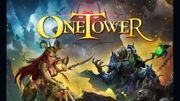 ONE TOWER combines popular design elements from the RTS and RPG genres in this all-new, free-to-play micro MOBA set in the fantastical world of Eternal Flame. Summon your minions, pick your Hero, and get ready for ONE TOWER – the first micro MOBA that's quick to play, easy to learn and insanely fun to play against one another. Read More...




Community content is available under
CC-BY-SA
unless otherwise noted.